Decanter's Best in Show – House of Cards Ace of Spades Chardonnay 2022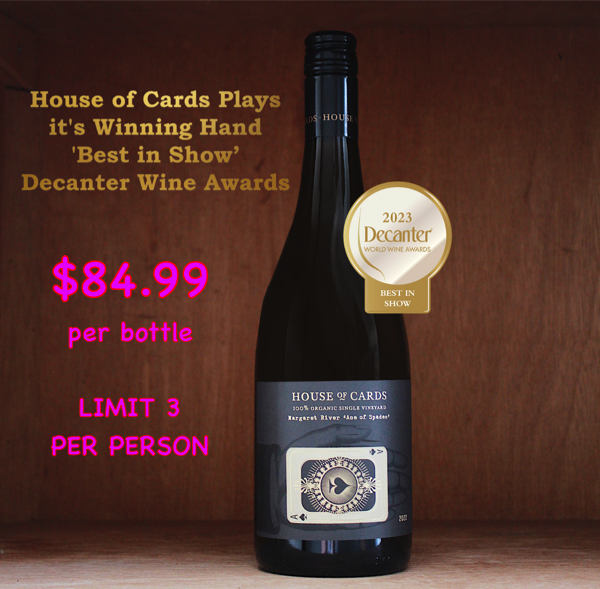 I don't usually write about wines I personally enjoy outside of our tasting panel newsletters, as I find it hard to pinpoint the correct adjectives. I prefer you, my customers, to form your own opinions on what we present to you, hence our extensive and ever-changing range. However, this wine from the House of Cards is phenomenal. It boasts balanced oak and acidity, impressive fruit power, and refinement. For a 2022 Chardonnay, it drinks like it's been cellared for the last three years—firing on all fronts. It was the winner of the 2023 Decanter World Wine Awards for Best in Show.
House of Cards was established in 2011, in Northern Margaret River on Caves Road, by Travis and Elizabeth Wray, all wines are grown organically and from single site vineyard in Yallingup. The vines they harvest were planted in 1997 and are all dry grown. They were fully certified Organic in 2020.
Just to put it into context: The Decanter World Wine Awards receive 18,500 wine submissions from all wine-producing countries, ranging from big names and houses to the unheard-of. It's the Olympics of the wine world, the World Cup, if you will. The benchmark is higher than high. In fact, the best-in-show Ace of Spades constituted a 97-point score, which, by most critics' standards, would be considered far from perfect. Each submitted wine costs approximately $400 AUD (all costs and fees included, not counting the cost of the wine itself). Doing the math, the competition, in its own right, amounts to $7.4 million in submissions. This is serious business and is treated as such.
So, to take the top spot in such a prestigious and expensive competition is a huge feat—especially when you're the young bucks in terms of a wine region. In fact, Margaret River took out three of the best-in-show/class trophies this year out of 50 of the top awards. Another was given to Sitella Winery for their top-flight sparkling (now sold out, unfortunately), and six more to other wines from around Australia.
Eight percent sounds like a small number, but when you say 8% of the top 50 wines in the world, out of 18,500 submissions (valued at $7.4 million AUD + cost of wine), come from Western Australia, and 20% come from Australia as a whole, it's a big deal. Some critics may disagree, and some of you might not like the wine, but to me, it's the best I've had this year—even last year. For only $84.99, you'd be hard-pressed to find a competing wine at that price point and delivers at that level anymore.
Written by Justin, owner of Liberty Liquors.