The Best 20 Vodka Brands of 2020




Once upon a time, the quality of a vodka was largely determined by what it didn't have, rather than what it did. In other words: the more neutral the profile, the better. In fact, up until very recently, the TTB officially defined vodka as "neutral spirits distilled or treated after distillation with charcoal or other materials so as to be without distinctive character, aroma, taste or color."
That definition was finally updated in May 2020, with the part about no "distinctive character, aroma, taste or color" dropped. This is a good thing, because all the bottles featured in this list might otherwise technically be deemed illegal — or at least not legally vodka.
Following a tasting of dozens of brands that the vodka landscape is rich in options, with each showing its own subtle character. None of the bottles that made this year's list burned when sipped — at room temperature, no less — and combined, they highlight the diversity of the category.
1. Reyka Vodka – $57.99
Distilled in Borgarnes, Iceland, Reyka makes use of the country's supply of glacial spring water and volcanic rocks (for filtration) to craft impeccably clean vodka. The nose and palate feature mineral notes and an almost mentholated profile.
2.Ketel One Vodka – $39.99

Produced using both column and pot stills — the latter uncommon for making vodka — this spirit has a noticeably smooth, balanced texture. A crack of pepper leads the nose, while the palate enjoys an almost botanical finish.
3.NEFT Black Barrel – $69.99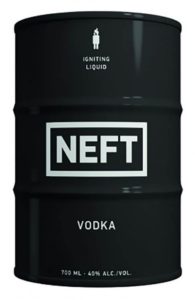 Crafted in Russia – Produced in Austria. Don't be fooled by the unconventional packaging, there's nothing gimmicky about this vodka. An Austrian rye-based spirit, it has a great concentration to the nose, delivering rich sourdough aromas. The palate is incredibly well balanced, with a smooth, lengthy finish.
Awards:
Double Gold Medal – San Francisco World Spirits Competition
4.Haku – $59.99

From Beam Suntory, this 100 percent rice vodka serves citrus and violet aromas; light, floral flavors; and a fruity finish. With its crisp, delicate profile, this vodka is perfect for dry Martinis with a lemon twist garnish or a refreshing vodka soda.
5.VDKA 6100 – $64.99

Another New Zealand offering, this vodka is also distilled from whey. Its aromas are clean and mineral-rich, with just a hint of citrus. The whey protein emerges on the palate, serving well-rounded sips and a slightly spicy finish but no hint of alcoholic burn.
6.Crystal Head Aurora – $84.99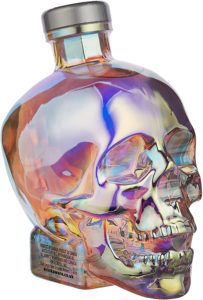 A prickly, peppery nose leads to a fruity, unctuous palate on this Canadian vodka. It's smooth-sipping and there's no hint of alcoholic afterburn. But let's be honest, when you're spending this amount on a bottle of vodka, you want something more than just great liquor — and this distinctive bottle delivers. Once the vodka inside is finished, it doubles as a bespoke decanter.
7.Archie Rose Vodka – 64.99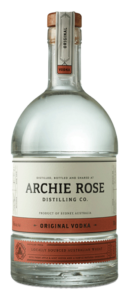 Using pure Australian wheat and twice carbon-filtered Sydney water, our Original Vodka leads with a subtle, natural sweetness followed by crisp apple and mint notes that delicately linger.
Awards:
World's Best International Vodka (Neutral Profile) – American Distilling Institute Craft Spirits Awards (USA)
World's Best Spirits Packaging – International Wine & Spirits Competition (London)
Australia's Best Vodka – International Wine & Spirits Competition (London)
Australia's Best Vodka – Global Vodka Masters (London)
Gold Medal – San Francisco World Spirits Competition (USA)
8.Ciroc Vodka – $49.99

CÎROC is a truly modern vodka, filled with flavour and style. Lusciously smooth, playfully sophisticated CÎROC is a commitment to superior taste, quality and a fun-loving lifestyle. Perfectly smooth served straight or on the rocks, CÎROC is also perfect in some of your favourite cocktails.
9.666 Butter Vodka – $54.99

The world's first natural butter vodka. Our Autumn Butter vodka is an expression of place, the flavour and environment that surrounds our distillery location. It is handmade using a proprietary slow fat-wash process combining low heat, loads of local butter and whole vanilla pods, giving the resulting liquid a creamy, complex taste unlike any other flavoured vodka.  No colours, no preservatives, no artificial flavours. Just great vodka and fantastic local Autumn Butter.
10.666 Coffee Vodka – $54.99

The world's first cold filtered coffee vodka. Initially earthy and full bodied with bitter sweet, bush coffee notes with nutty wattleseed warmth, dark chocolate, salted caramel and anise subtleties, building to a complex and bitter off-dry, finish.
11.Wyborowa Polish Pure Vodka – $42.99

Wyborowa is the oldest Brand of Vodka and its origins go back over five centuries to the birth of Vodka in Poland. In 1823, after winning the first and most significant taste competition, this rye-distilled elegantly smooth Vodka was issued the first trademarked name – Wyborowa. The name Wyborowa, is well suited, as it literally means Exquisite.
12.Old Young's Vodka – $60.99

Australian sugarcane meets Swan Valley grapes. The result? A modern classic, with a crisp, clean flavour and wonderfully smooth finish. This is small-batch spirit making at its finest. Pure No. 1 is pure enjoyment.
Awards:
Trophy – Best International Vodka – 2017 American Distilling Institute Awards
Trophy – Champion Vodka – 2016 & 2017 Australian Distilled Spirits Awards
Gold – 2017 American Distilling Institute Awards
Gold – 2016 & 2017 Australian Distilled Spirits Awards
13.Grey Goose Citron – $69.99

In crafting GREY GOOSE® Le Citron Flavored Vodka, Cellar Master François Thibault began with the finest lemons, including those grown in the world-renowned Menton region of France. The lemons are concentrated into a complex citrus oil extract to preserve their bright flavors, then expertly blended with vodka of unparalleled quality, GREY GOOSE®.
14.Canadian Iceberg – $49.99

Made up of water that's been frozen for tens of thousands of years, these massive icebergs contain the purest source of water on the planet. Once the annual harvest is complete and the ice is melted down to water, it's blended with a triple distilled neutral spirit and charcoal filtered. The final result is a gluten-free vodka spirit that's crystal clear in the glass with delicate aromas of citrus.
Awards:
Gold winner – Craft Spirit Competition 2019
Gold winner – San Francisco's 2019 World Spirits Competition
15.Belvedere Citrus -$64.99

By soaking fresh fruit directly in the vodka, Belvedere ensures that the vibrant flavors from fruit, peels and flowers are delicately extracted. Three separate blends of citrus peels, Italian and Argentine lemons, and Mexican limes, with no artificial flavors or added sugar, delivers a refreshing bright and natural lemon and lime taste to the vodka.
16.Absolute Elyx – $76.99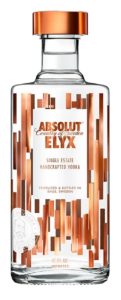 Every drop of Absolut Elyx is made from winter wheat grown on one single estate in southern Sweden. Full bodied, luscious silky mouthfeel with waves of rich macadamia nuts, creamed cereal and garnishes of white chocolate and buttery notes of freshly baked bread. Light fresh nuttiness with a well-balanced hint of mellow spice and pure balanced richness.
17.Absolut Peppar – $42.99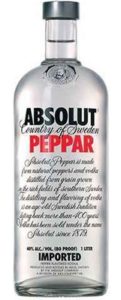 So why pepper? Since vodka and pepper are the main ingredients in a Bloody Mary, it seemed like a good idea to make things easier for bartenders working at the many Bloody Mary bars popping up in Boston, New York and elsewhere at the time. The idea soon turned out as intended, both for bartenders and for all the weekend brunch fans looking to impress friends with an easy-to-make, perfect to pair Bloody Mary.
18.Beenleigh Cane Cutter – $52.99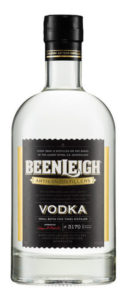 Cane Cutter Vodka starts with locally sourced molasses from just down the road to the Beenleigh Artisan Distillery.  Distilled 5 times including the Copper pot, the result is a vodka that is exceptionally smooth with a hint of natural sweetness.  A crafted smooth Australian vodka from Beenleigh's Artisan Distillers.
19.Outerspace Vodka – $59.99
Made from lowan corn, Outer Space Vodka is a five-times distilled Vodka with an ultra smooth and clean taste. Great to enjoy over ice or use as a base for your favourite cocktails. The distinctive green glass bottle in the form of a green alien head is great conversation starter for gatherings and parties.
20.Russian Standard Imperia – $88.99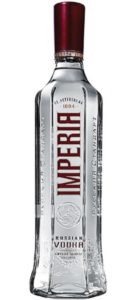 IMPERIA vodka has been crafted to the highest standards to create a pristine Russian vodka for those who enjoy the finer things in life. Produced by the world's most advanced distillation process and layer-filtered through quartz crystal from the Ural Mountains, IMPERIA is allowed to rest in relaxation tanks for 72 hours before bottling. The result is an exceptionally pure and clean taste with a light herbal aroma and elegant, full body.
By Tim McKirdy from Vinepair
This is the range of Vodka that we have:
42 Below Passion Passionfruit Vodka 700ml
42 Below Pure Vodka 700ml
666 Autumn Butter Vodka 700ml
666 Autumn Coffee Vodka 700ml
666 Autumn Tasmanian Vodka 700ml
Absolut Peppar Vodka 750ml
Absolut Vodka 1lt
Absolut Vodka Apeach 700ml
Absolut Vodka Citron 700ml
Absolut Vodka Elyx 700ml
Absolut Vodka Lime 700ml
Absolut Vodka Miniatures 150ml
Absolut Vodka Raspberry 700ml
Absolut Vodka Vanilla 700ml
Archie Rose Distilling Co Original Vodka 700
Beenleigh Cane Cutter Vodka 700ml
Belgian Bear Vodka 700ml
Beluga Transatlantic Racing Vodka 700ml
Belvedere Vodka Cytrus 700ml
Canadian Iceburg Vodka 700ml
Ciroc Snap Frost Vodka 750ml
Ciroc Vodka 200ml
Crystal Skull Aurora Vodka 700ml
Daniloff Premium Vodka 1lt
Dead Head Skull Decanter 700ml
Dead Head Vodka 700ml
Dead Head Vodka Pistol 170ml
Deadhead Vodka 170ml
Divas V Kat Vodka 700ml
Eristoff Premium Original Vodka 700ml
Eristoff Premium Vodka 1lt
Fair Quinoa Vodka 700ml
Finlandia Lime Fusion Vodka 700ml
Finlandia Vodka 1lt
Finlandia Vodka 700ml
Grey Goose Citron Vodka 700ml
Grey Goose Vodka 200ml
Grey Goose Vodka 750ml
Grey Goose Vodka Miniatures 50ml
Karloff Vodka 1125ml
Karloff Vodka 700ml
Ketel One Citroen Vodka 700ml
Ketel One Vodka 700ml
Neft Vodka Black 700ml
Neft Vodka White 700ml
Outerspace Vodka 700ml
Outerspace Vodka Minitures 50ml
Peliskovka Strong Vodka 500ml
Petrovska Raspberry Vodka 700ml
Petrovska Vanilla Vodka 700ml
Polar Bear Exclusiv Vodka 375ml
Polar Bear Exclusiv Vodka 700ml
Polar Bear Exclusiv Vodka 100ml
Polar Bear Ice Vodka 500ml
Polar Bear Perfect Vodka 500ml
Polar Bear Vodka 700ml
Polar Bear Vodka 200ml
Polmos Zubrowka Bison Vodka 700ml
Reyka Vodka 700ml
Russian Standard Gold Vodka 700ml
Russian Standard Imperial Vodka 700ml
Russian Standard Platinum Vodka 700ml
Russian Standard Vodka Original 700ml
Skyy Vodka 700ml
Skyy Vodka 1lt
Smirnoff Coconut Crush Vodka 700ml
Smirnoff Double Black Vodka 700ml
Smirnoff Green Apple Twist 700ml
Smirnoff Raspberry Twist 700ml
Smirnoff Vodka 375ml
Smirnoff Vodka 50ml
Smirnoff Vodka 1125ml
Smirnoff Vodka 700ml
Smirnoff Vodka 1lt
Smirnoff Vodka Black Small Batch 700ml
Stolichnaya Russian Vodka 1lt
Stolichnaya Russian Vodka 700ml
Stone Pine Finger Lime Vodka 500ml
Stone Pine Wild Lime Vodka 375ml
Titos Handmade Vodka 700ml
Tolstoy Vodka 700ml
VDKA 6100 Vodka 750ml
Vodka O 700ml
Wyborowa Polish Pure Vodka 700ml
Wyborowa Polish Vodka 1lt